Stand Up Paddle Boarding the Tetons
Stand Up Paddle Boarding in the Tetons is an amazing experience. There are a a number of bodies of water to get out upon throughout the Valley. Grand Teton National Park provides paddlers with the options of Jackson, Jenny, String, Leigh and Phelps lakes.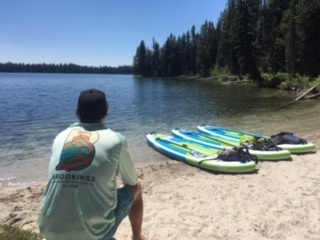 Our rental fleet is composed of BIC Oxbow paddle boards, that measure 10'6" in length. They are inflatable, which allows for easy transportation. They are quickly inflated via hand pump once you reach your paddling destination.

Slide Lake on the Eastern side of the valley is another suitable paddling adventure. Slide Lake can be found just outside of the town of Kelly.